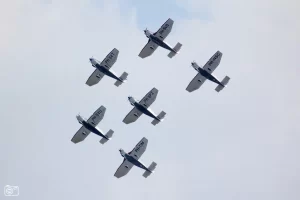 The Victor Romeo Formation performs in air shows. They used to visit the Volkel in de Wolken airshow each year until the show was discontinued in 2017. At Vliegclub Rotterdam's open day, the team always performs a formation demo. They do a flyover every year at the introduction day of TU Delft's Leonardo da Vinci study association.
What we may do
The team can fly shows or demos during UDP (uniform daylight period). This is from sunrise until fifteen minutes past sunset. The formation can fly nearly everywhere, with some obvious exceptions such as military terrain.
What we can do
The Victor Romeo Formation has access to all civil airfields in the Netherlands and Belgium! A show or demo can start from any such field near your event. Are you ready for take-off?
Request a quote (no obligations!)
The price of a show depends on the number of aircraft, the distance to the event (due to fuel costs) and the available preparation time. We are more than happy to write up a non-binding offer for you. In the form below, please include the name, date, and place of your event. We will look at the possibilities and contact you!
All shows and demonstrations are subject to good weather conditions.